GRafP Technologies provides products and services to help organizations model and assess their processes and optimize their operations. Organizations worldwide are benefiting from GRafP's services.
GRafP Technologies' services help:
| | |
| --- | --- |
| | Managers efficiently monitor the risks facing their strategic initiatives and take appropriate action to prevent these risks from materializing; |
| | Process Specialists conduct CMMI Institute-Authorized or informal CMMI®-Based Appraisals to identify where quality and productivity can be increased; |
| | Auditors collect and analyze the information that will help them fulfill their verification responsibilities; |
| | Investment Analysts assess the risk of investing in IT ventures, manage their investment portfolios and negotiate fair conditions with their clients |
An organization is then in a better position to gain a precise understanding of its processes, an essential component of the corporate knowledge base which will constitute the success factor of the IT enterprises and organizations of the 21st century.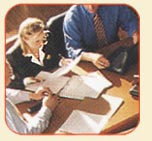 GRafP has a team of highly experienced professionals who provide practical assistance in modeling complex risk issues. From our X:PRIMER product line, we then develop a custom-made service for you, and we train your personnel on how to make the most of it as the situation evolves.

Over the years, GRafP has acquired a unique expertise in helping organizations in the information technology sector identify and manage risks. GRafP has developed the X: Probabilistic Risk Identification, Mapping and Evaluation (X:PRIME) methodology that can be applied in any domain X where there is a significant human component, and the X:PRIME Resolver (X:PRIMER) Web-enabled client-server tool suite for implementing the X:PRIME methodology. Governments and IT industry leaders have adopted this approach as a key component of their process improvement and risk management initiatives as part of their information technology procurement programs.